With over 100 years of combined legal experience, our team is highly qualified to provide legal services for your most difficult family circumstances.
Tustin Family Law Attorney
Family law is extremely important. The rules and regulations in this area of our judicial system impact nearly everyone at some time or another. At DeArmey Law, we provide Tustin with the essential service of defending and assisting families as their structures change, and they face modern challenges. Though we specialize in many areas of family law, our aim is always the same. We approach every family law case with respect, dignity, and gentleness as you navigate the often emotional process of family legal matters. No matter your situation or goal, DeArmey Law Firm employs the Tustin family attorney you want on your side.
At DeArmey Law, our team of attorneys has many years of experience in helping our clients navigate the confusing procedures of family law to achieve their desired results.
Whether you need help with a divorce or settling a difficult child custody battle, we'll work tirelessly on your behalf to bring your case to a positive outcome as quickly and efficiently as possible. We will give you practical strategies that you can implement immediately to reduce conflict and work towards a favorable resolution.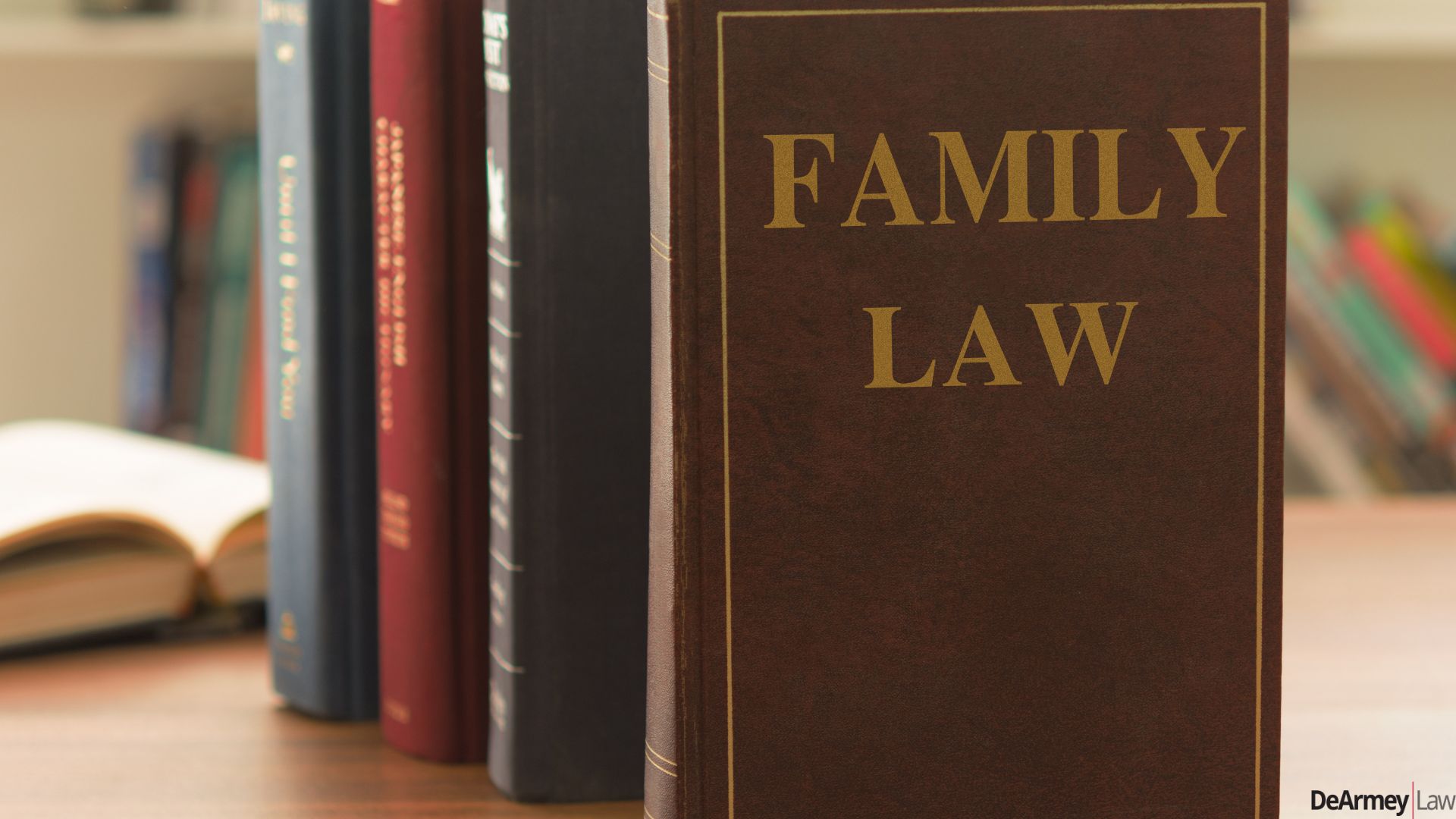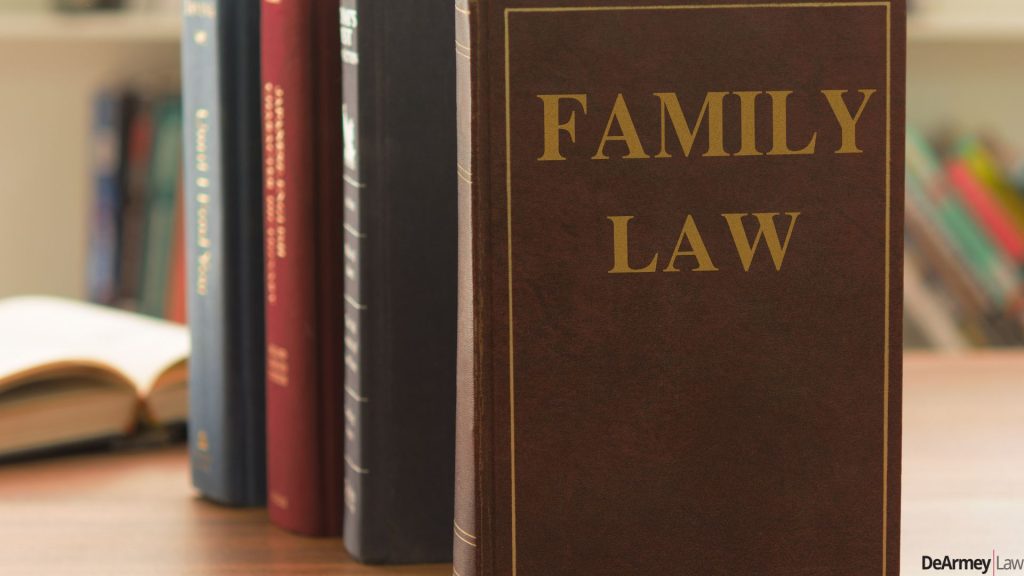 Domestic violence is one of the most traumatic and divisive events that can happen to a family. When it does occur, it's essential to hire a competent lawyer to ensure the safety of any victims, especially children.
Domestic violence
is a prosecutable crime, and there are many avenues you can take to prosecute your abuser to the full extent of the law. Many people choose protective orders, but the course of action depends on the type of violence and the duration of the abuse. No matter what you choose, we'll fight to make sure you and your children are protected and safe. Many victims hesitate to come forward, but it's essential that you do. Domestic violence can weigh heavily in divorce cases, especially when it comes to custody and visitation. To keep your family safe, you must seek legal advice from a practiced family law attorney. The attorneys at DeArmey Law Firm give you the very best chance of domestic violence cases ending in your favor. We also defend those who have been wrongfully accused by a parent trying to use the
Domestic Violence
Protection Act as a sword instead of a shield as it was intended. We seek to find what is fair and carry it out legally.
Often, owning a business is a source of pride for individuals and couples. No matter your line of work, having a product or service to offer allows many people to become their own bosses. Investments can be similarly joyful, giving many couples freedom and assets they couldn't obtain elsewhere. When it comes to divorce, these sources of joy and pride can become difficult to navigate. Dividing business ownership during a divorce can be complex and contentious. The process can be difficult, and in some cases, it can ruin your livelihood. However, with the right lawyers, the process can remain amicable and smooth, and both parties can receive fair compensation. The attorneys at DeArmey Law Firm are well versed in
business valuation
, and divorce law and thus are well poised to make the process as easy as possible. We'll help you look at all factors to determine exactly what your business is worth and reach a settlement that is fair to both parties.
Prenuptial or premarital agreements have a tense reputation. Signing paperwork deciding how assets can be divided in divorce cases is not particularly romantic, and many couples would rather not think about it. Many families with extensive resources require them for their children, whereas some couples decide on their own that it would be best for them. No matter your reasoning, setting up a premarital agreement before marrying can save a lot of heartache and contention in the unhappy event of divorce. Premarital agreements can preserve respect between divorcing couples and may allow you to politely coparent any children you may have. If you're getting married, the attorneys at DeArmey Law Firm can help you hammer out an agreement that is fair to both of you. These agreements can be complex, and the law is ever-changing. It's always best to seek legal counsel to create a legally binding contract. In addition to covering the legal details of your prenuptial agreement, we will take the procedural steps necessary to provide the stability the parties are seeking from their premarital agreement. At DeArmey Law Firm, we're committed to helping our clients see the "bigger picture" in matters of family law. We seek to help them find solutions that work for their lives long-term. To learn more about how we can help, call our offices today for a free initial consultation about your premarital agreement.
Though it's never anyone's intended outcome when getting married, divorce does happen. It's common for two people to realize that marriage to one another no longer makes them happy. Divorce can be an extremely painful process for everyone in the family, but it doesn't have to create irrevocable rifts between members of your changing family. At DeArmey Law Firm, we understand the difficulties of dealing with complex questions and heightened emotions surrounding divorce. We will work with you to help you through this transition time in a manner that's as fair as possible but that still protects your interests and your family's delicate emotions. When seeking a divorce, it's imperative to find lawyers who will advocate for an equitable agreement and who understand the difficulties that come with the process. We may have aided in hundreds of divorces, but we understand that this process is new to many of our clients and treat every single one with the care and respect that sensitive times require.
Child Custody/Visitations
We know that your children's health and happiness are your first priority. Though you never intend to cause them pain, children often suffer the brunt in contentious custody disputes, especially when they aren't handled by experienced attorneys. Parents often struggle to put pride and emotion aside to develop custody and visitation schedules that work for the children first. We put your children first, working with you to ensure their best interests at all times. Having an experienced party act as a level head in emotional child custody agreements ensures that the schedule is based upon fair and essential criteria, rather than favoritism or other irrelevant factors. Helping our clients with child focused solutions is often the best way to bring a matter to resolution quickly and ensures that everyone remembers what is important in custody agreements: the health, happiness, and safety of the children in question. This is one of our strong suits at DeArmey Law Firm, and we are pleased to bring this service to the families in the Tustin area.
The health and safety of your children is your top priority, as well as the court's. Children need access to reliable housing, good food, and a stable home environment. For these needs to be met, both parents need to contribute equally to the financial burden of providing for their children. In cases of full custody, the parent without custody should be paying their share to the parent taking care of the child or children. In joint custody cases, the higher-earning parent is often asked to pay support to the lower-earning parent to mitigate the differences in income. No matter the situation, it's undeniable that child support is essential to raising happy and healthy children. The law is very clear that supporting your children is a financial priority in divorce cases. To create and enforce child support agreements, you must have experienced attorneys on your side. Child support battles often get tricky, especially if one parent cannot or will not pay their fair share. The attorneys at DeArmey Law Firm are experts at creating and enforcing child support agreements. We'll fight to make sure your children are provided for, and we'll also work to ensure both parents are paying their fair share.
Uncertainties about parentage can cause a slew of problems. Everything from the child's self-identity to child support enforcement hangs in limbo when both parents are not formally known and recognized. This ambiguity keeps families from leading healthy, happy, and normal lives and creates undue stress within the family unit. Unfortunately, proving paternity is not always an easy process. Many times, potential fathers are resistant to the idea, knowing that they will be financially responsible if they are the child's parent. Sometimes families seek this information without a lawyer, but regrettably, these searches are hard to enforce. When seeking to confirm parentage, your best course of action is to look for an experienced family law lawyer. At DeArmey Law Firm, we specialize in family law and know how to walk you through the paternity confirmation process smoothly. We can help establish the confidential parentage of your child, both to ensure your rights as a parent as well as enforcing the legal responsibilities of the other parent. If applicable, we can also help you with the next steps after paternity is confirmed, such as child support, child custody, and visitation rights.
Divorce creates many uncomfortable scenarios. Between dividing assets and restructuring your day-to-day life, it can be a long time before the dust settles enough for you to take stock of your situation. In some cases, one member of a divorced party finds that they are not in a position to adequately support themselves financially. One spouse often makes the majority of the family income, while the other seeks responsibility in the home, works a lower-paying job, or enjoys leisure activities. When a marriage with such an arrangement ends, it can be difficult for that spouse to begin a new life without their ex-spouse's support. If you were supported financially in a marriage and are unable to support yourself outside it, you do have options. Spousal support allows for payments to be made from one member of an ex-marriage to another, ensuring that your new life is not further disrupted by your divorce and subsequent loss of income. At DeArmey Law Firm, we will fight to ensure you receive the full measure of spousal support to which you are entitled under the law. Family Code §4320 outlines several factors that Courts take into consideration in making permanent support orders, and our attorneys are experts on all of them. We educate our clients about their rights and responsibilities regarding spousal support in order to help them achieve financial stability. It is imperative to seek legal counsel in these matters; however, it is impossible to enforce or rely upon spousal support payments without a legally binding agreement.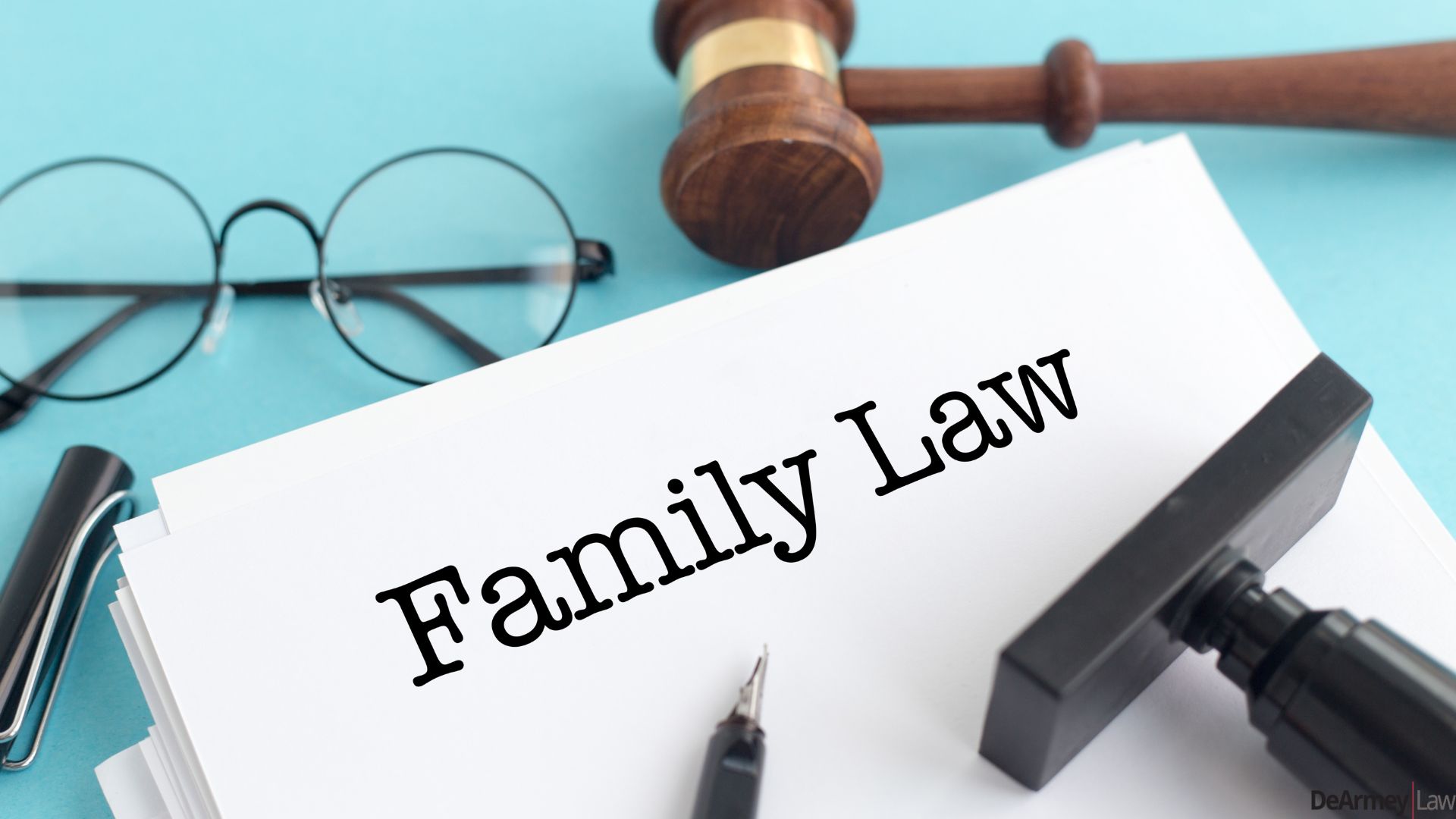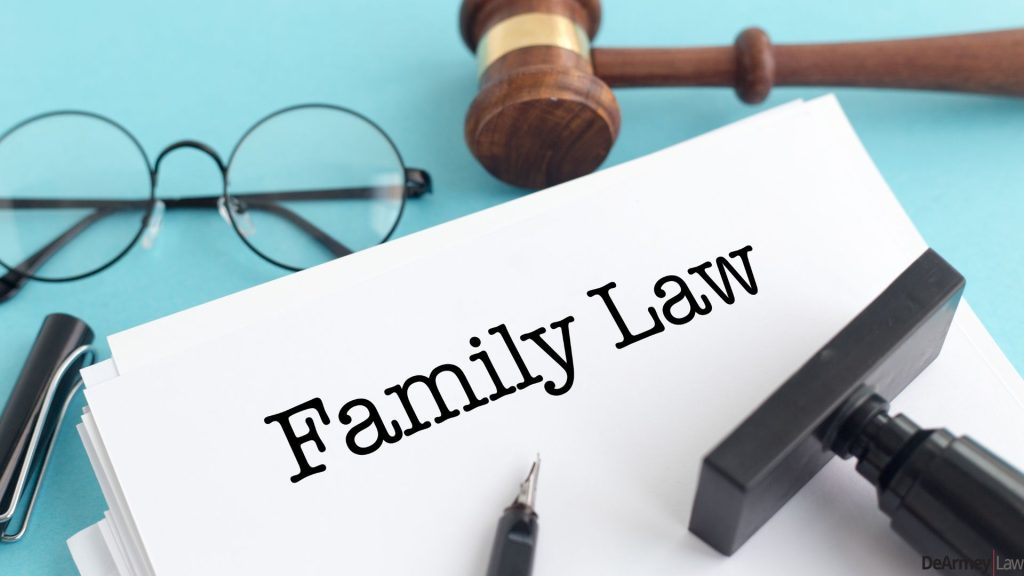 One of the most unsettling factors in a divorce is the loss or division of property. Many families end up selling their lifelong homes or are forced to concede the asset to a spouse. For lots of people, property is the most valuable asset they own, and selling it feels extremely discouraging. Some families can easily agree on property division, while others cannot. No matter how amicable the divorce, it's imperative to get an experienced lawyer to advocate for your legal rights. Since California is a community property state, property divisions in a divorce can be quite contentious and tricky, and without legal counsel, many people lose more than they should. At DeArmey Law Firm, we specialize in family law of all kinds, including property divisions. Our expert attorneys can help you with the characterization and evaluation of property to determine what classifies as community property and can help you negotiate a solution that works for you.
At DeArmey Law, we cherish family values. We know that any situation involving family law is emotional, and many people truly only want what's best for their changing family structure. When emotions run high, disagreements over details can create rifts that are impossible to mend. This is why we seek to bring a personal and effective approach to all your family law matters. We understand what's at stake during these cases and work around the clock to ensure that the process is as easy as it possibly can be. We know that there's no such thing as a painless divorce or an unoffending custody battle, but we continue to strive to make those contradictions a reality. For the very best Tustin Family Law Attorneys, contact DeArmey Law Firm today.
Trusted by the Southern California Community for More Than 40 Years
With over 100 years of combined legal experience, our team is highly qualified to provide legal services for your most difficult family circumstances.