With over 100 years of combined legal experience, our team is highly qualified to provide legal services for your most difficult family circumstances.
Experiencing a separation or divorce is arguably one of the most stressful situations a person can go through. During this time, you may find yourself dealing with many emotional, financial, and familial changes. Divorce can also be a confusing situation to navigate legally, especially when children are involved.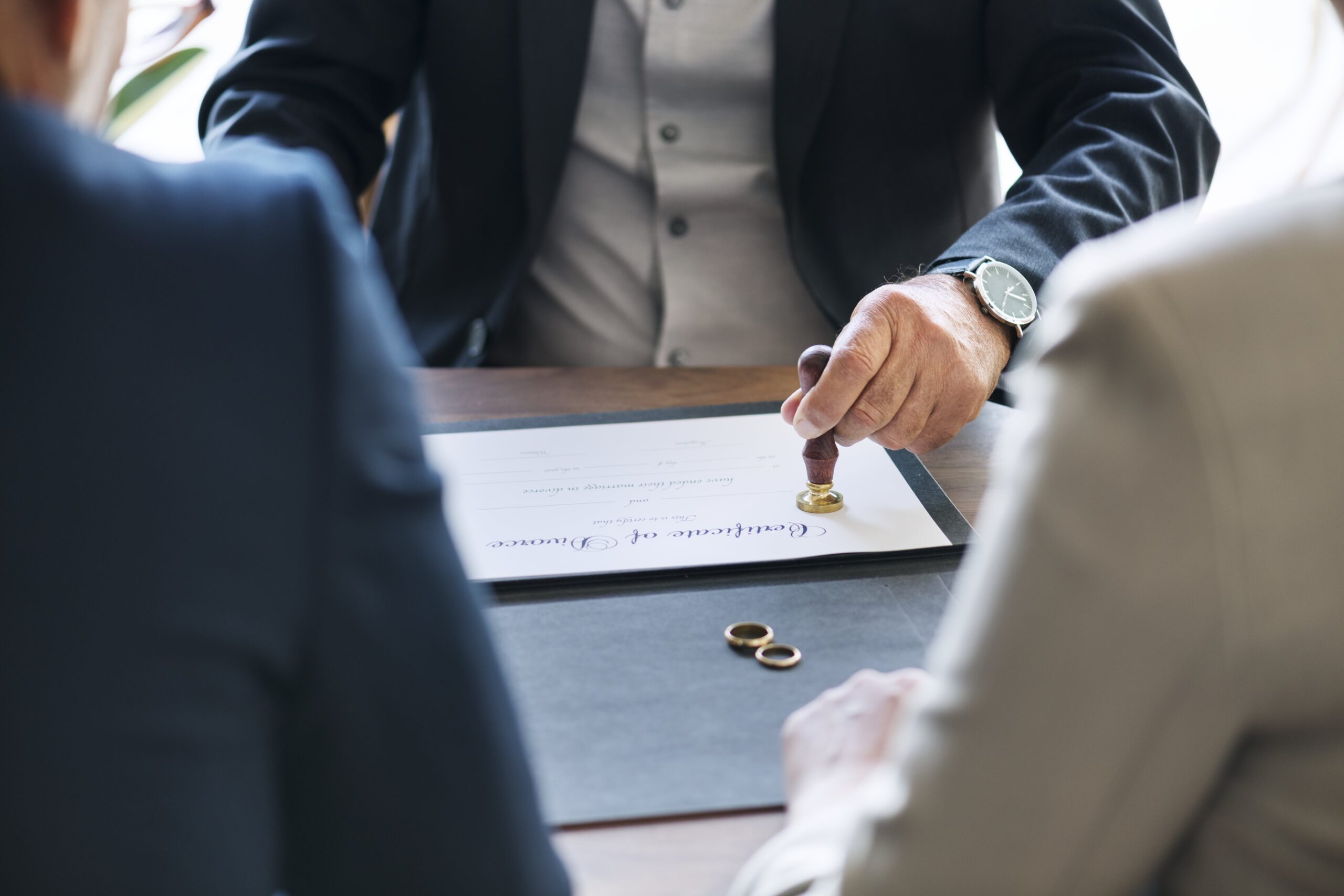 At DeArmey Law, we aim to lessen some of your burdens and feelings of uncertainty by compassionately guiding you through the legal process of divorce to help you and your children get the outcome you desire and deserve. We aim to avoid litigation whenever possible but are also prepared to support you during a trial if your case requires it.
How Do I File for Divorce in California?
In California, divorce is legally referred to as "dissolution of marriage." There are several legal steps and forms involved that Orange County divorce attorneys can walk you through. The process can be somewhat simple or extremely difficult, depending on your situation and how cooperative you and your ex are with one another throughout the process.
If you and your spouse do not agree on the terms of your divorce when it comes to details such as division of assets, child or spousal support, and custody, your divorce is considered a "contested divorce." A family law attorney is useful in contested divorces, as they are experienced in helping couples negotiate fair terms. When filing for a contested divorce, the steps can differ depending on your situation but are generally as follows:
Step one: Complete the initial paperwork, which typically includes a document for the petitioner (initial filing party) and one for the respondent (the other spouse). If you have children under the age of 18, you will also need to complete the Declaration Under Uniform Child Custody Jurisdiction and Enforcement Act. File the paperwork with the court clerk and pay the filing fee.
Step two: Serve your spouse if you are the initial filer. There is a strict process to follow for serving to ensure everyone involved has been given notice about the filing and is given an opportunity to respond. You cannot simply hand the papers to your spouse — you will need to have the documents delivered by a qualified person or by mail with the proper accompanying forms.
Step three: Respond to the initial petition if you are the spouse being served.Wait for a response if you are the initial filer. The person served has 30 days to respond, pay a filing fee, and provide the other spouse with the response forms. The served spouse also needs to file proof of receiving service with the court.
Step four: Complete financial disclosure forms within 60 days of filing. California law requires divorcing couples to exchange financial information. Provide a complete and accurate picture of your finances to avoid delays, and then file those forms with the court.
Step five: Participate in settlement negotiations or a trial if necessary. Not all contested divorce cases require a trial. Negotiation, mediation, and collaboration are all options when it comes to attempting to reach a settlement. If you cannot come to an agreement with these strategies, a trial in front of a judge may be required.
Uncontested Divorce Proceedings
The steps differ slightly for couples filing for an uncontested divorce in California. If you and your spouse agree on the dissolution and its terms, have few assets and have no children between you, the divorce process could be somewhat simple. There are several requirements couples must meet to be eligible to file for an uncontested divorce, including:
At least one spouse has lived in California for six months, and in the county they are filing from for 3 months
You both agree your relationship is beyond repair due to irreconcilable differences
You share no children under the age of 18
Your marriage did not last longer than 5 years
Neither of you own property or unpaid debts over $6,000
Your combined assets are valued at under $43,000
You have come to a settlement agreement regarding your jointly owned assets and debts
Neither of you are asking the other for support or alimony
If you manage to meet all these requirements, you can file a joint petition for a summary dissolution of your marriage. You won't be required to appear in court and your divorce should be final in 6 months if all processes were followed correctly. Even in an uncontested divorce, the help of a family law attorney is useful to ensure no mistakes are made and the dissolution goes through smoothly.
Even in contested divorce cases, a trial is not always necessary. There are other options when it comes to reaching a settlement before entering litigation. The most common alternative dispute resolution in California is mediation. In mediation, a neutral mediator guides couples in negotiating the terms of their divorce outside of a courtroom. Having an attorney on your side during mediation is valuable, as mediators cannot provide legal advice to either party. A lawyer can consult with you before and after mediation meetings or be present at the meeting to advise you in real time, depending on your needs.
How Long Does a Divorce Take in California?
In California, there are a series of steps to go through to successfully file for a divorce, which can take more or less time depending on the specifics of your case and the willingness of both parties to dissolve the marriage. Finalizing a divorce takes at least six months in California, even for the most straightforward cases. Some states have a waiting period for divorce to ensure both parties are committed to ending their marriage. California is one of these states, with a strict six-month waiting period. This means a divorce cannot be final until at least six months have passed from the first petition being filed, even if you've reached a marital settlement agreement faster than that.
How Much Does a Divorce Cost in California?
The cost of a divorce in any state varies significantly depending on the individual circumstances of each situation. Couples who are agreeable to the divorce and can come to terms on their own might only pay the $435 filing fee to make things official. On the other end of the spectrum, divorce cases can also lead to large court battles costing many thousands of dollars between legal fees and settlement arrangements. The high cost of living in California leads to generally higher divorce costs compared to other states in the U.S. For California couples without children, the average cost of divorce is $17,500. Those with children have an average divorce cost of $26,000.
Do I Need an Attorney to File for Divorce in Orange County?
There is no legal requirement to seek representation to support you during a divorce case, but neglecting to do so will likely put you at a disadvantage, especially if your ex-spouse has hired an attorney. An experienced divorce lawyer will ensure you follow the proper legal procedures, fill out paperwork accurately, and adhere to timelines set forth by the court. Additionally, they will help you build a case to increase the likelihood of receiving a fair and reasonable outcome in your divorce when it comes to asset division and child custody agreements.
Can a Family Law Issues Attorney Help With a Child Custody Case?
If your divorce involves minor children, getting representation from a lawyer is a wise choice to ensure you and your children get what is best. In addition to helping you navigate the complex legal system surrounding child custody cases, a lawyer will also help you build a case to support you in getting time with your children. They will also look at your individual income and expenses and the finances surrounding raising a child and help determine what is fair to fight for when it comes to receiving or providing child support.
Representing yourself in child custody cases is risky due to the emotional nature of this type of case. You will need to be prepared to hear your ex-spouse's legal team build a case against you in an attempt to get an agreement that is in their favor. This can cause people to want to respond in an angry or unprofessional manner when emotions are high. An experienced family law attorney will be able to speak on your behalf to present your rebuttals, concerns, and wishes regarding child custody in a level-headed way.
Contact DeArmey Law for Reliable Family Law Services Representation
Our team of Orange County family law attorneys is ready to help you navigate any family law issues you may be dealing with, including child custody and divorce cases.With over 40 years of experience serving Irvine and surrounding areas, you can trust you are in experienced hands with DeArmey Law. We pride ourselves on approaching each situation individually, as we understand there is no cookie-cutter approach to divorce proceedings. We will help you understand your options, fight for a fair settlement, and support you in trial if needed. Contact us today to discuss your case and start developing your legal strategy.