Mission Viejo Divorce Attorney
With over 100 years of combined legal experience, our team is highly qualified to provide legal services for your most difficult family circumstances.
Mission Viejo Divorce Lawyer
There is no question that going through a divorce can be a trying time for everyone involved. Regardless of what reasoning you and your partner may have for wanting to end your marriage, the process of doing so is often fraught with emotion and conflict. This is entirely normal, as it is likely that you are both going through a wide range of feelings, from sadness and betrayal to anger and frustration. However, it is important to remember that, as difficult as this process may be, it is ultimately necessary for both you and your spouse to move on with your lives.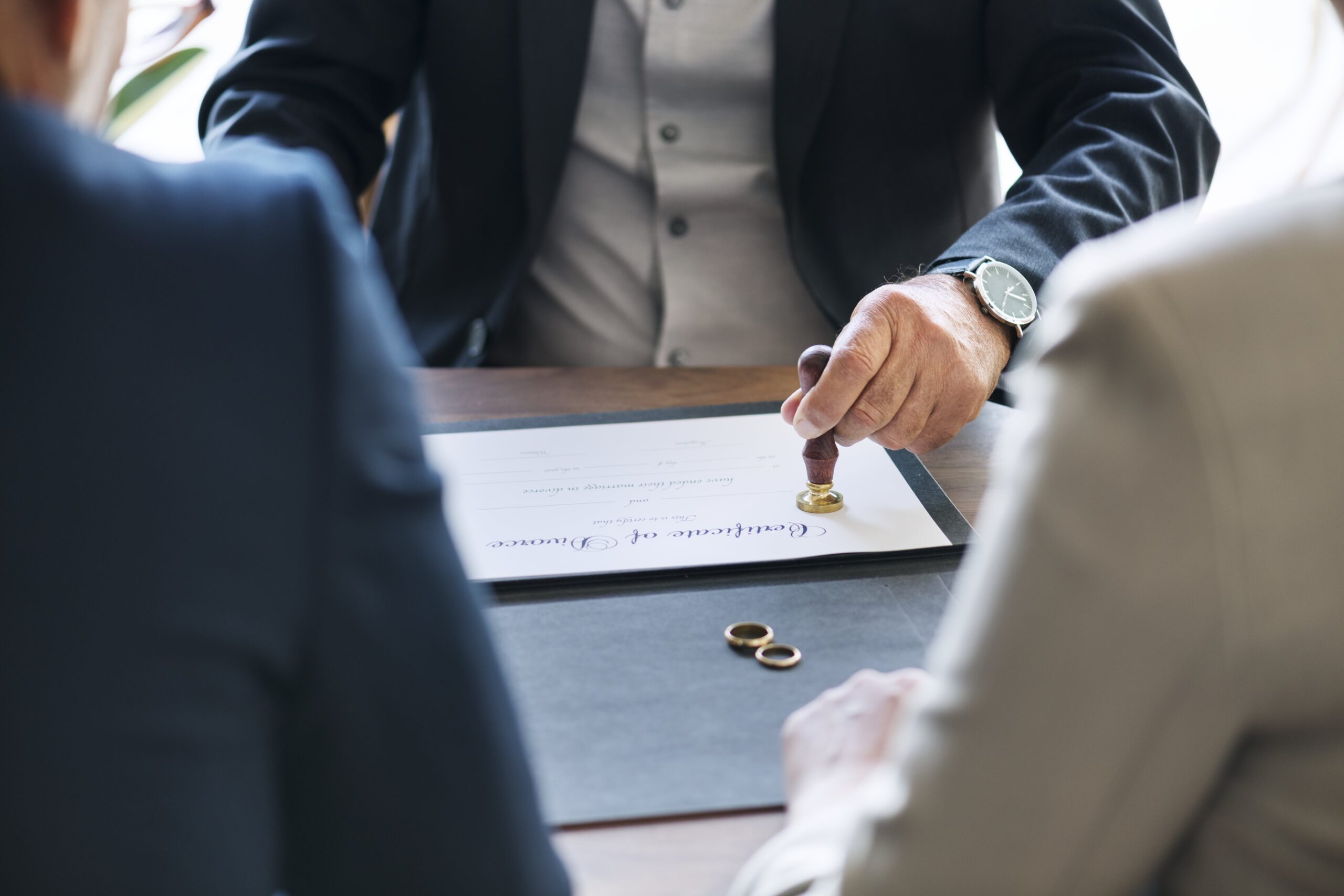 One significant area that can improve the chances for a successful divorce is to have an experienced Mission Viejo divorce attorney on your side. Your attorney can provide you with critical support and guidance throughout the divorce process and can help to ensure that your rights to property division, child custody, child support, spousal support, mediation, and more are protected.
Representing Divorce Clients Throughout Mission Viejo
At DeArmey Law, our Mission Viejo Divorce Lawyers have years of experience representing clients in all facets of divorce. We understand the sensitive nature of these cases and are dedicated to providing each of our clients with the required personal attention and support they need throughout this difficult time. We have designed our approach to divorce law to be both cost-effective and results-oriented and are proud to have a genuine history of success in helping our clients obtain an outcome that meets their needs and gets them excited about their future.
If you are considering a divorce, or have already begun the process, please do not hesitate to contact us for a confidential consultation. We can answer any of your questions and discuss how we will help you protect your rights during this difficult time.
Do I Need to Hire a Mission Viejo Divorce Lawyer?
It is highly advisable to have a Mission Viejo divorce lawyer represent you during your divorce. While the temptation to represent yourself may be strong, especially if you and your spouse agree about the divorce, it is important to remember that divorce law is complex and nuanced. An experienced divorce lawyer will know the ins and outs of the law and will be able to protect your rights during the divorce process. Additionally, a lawyer can help ensure that the process goes as smoothly as possible, reducing the amount of stress and conflict you experience. If one party changes their mind late into the proceedings, having a lawyer can help guide you through the process and guard your interests.
When weighing whether to hire a family law attorney for divorce, you may also consider:
You are not emotionally ready to deal with a divorce.
There are child custody or visitation disputes.
One party is trying to hide assets.
You need help negotiating a property settlement or alimony agreement.
You need help with a post-divorce modification.
You are being served with divorce papers and need legal representation.
Additionally, the level of risk is reduced when an experienced family law attorney is handling the divorce case. Don't let unnecessary mistakes or lack of knowledge cost you what you're fighting for in a divorce.
How Much Does a Divorce Lawyer Cost in California?
The cost of a divorce lawyer can vary depending on the complexity of your case, the attorney's experience, and other factors. You will find that most family law attorneys will charge a client either by the hour or by a flat fee. It's up to the client which forms of payment they would prefer, which is why it's important to take advantage of the attorney's free consultation to better understand what to expect financially.
Regardless of which form of payment you choose, it's undeniable that the legal costs to hire representation can dramatically save you time and money in the long run. A skilled lawyer will know how to handle your case efficiently and get you the best possible outcome, while avoiding costly mistakes that can prolong the process or worse, lead to an unfavorable ruling.
Mediation is a popular alternative dispute resolution process that is often used in family law cases, including divorces. During mediation, both parties meet with a mediator who helps them to negotiate a settlement agreement. The mediator is always a neutral third party, meaning that they do not represent either party and are not biased in any way. This can be a helpful process for couples who are able to communicate effectively and want to avoid a costly and protracted divorce battle.
If mediation is successful, the parties will sign a settlement agreement that outlines the terms of their divorce. This can include things like child custody, child support, spousal support, and property division. If mediation is unsuccessful, the parties may choose to proceed with a traditional divorce lawsuit. Regardless of which route you choose, it is always advisable to have an experienced divorce lawyer monitoring your progress closely and ensuring that no party is trying to take advantage of the other.
What Is a Prenuptial Agreement?
A prenuptial agreement, also known more popularly as a prenup, is a contract that two people enter before marriage. This agreement can outline how property and assets will be divided in the event of a divorce and how child custody and support will be handled. It is not uncommon for people to enter into a prenuptial agreement if one or both parties have considerable assets or are significantly wealthier than the other.
Prenuptial agreements can be a helpful way to avoid messy and protracted divorce proceedings, but they are not foolproof. If the agreement is later challenged in court, the judge will ultimately decide how it is interpreted and enforced. It is always advisable to have an experienced family law attorney help you draft and negotiate a prenuptial agreement so that both parties are fully aware of their rights and obligations.
How Can I Secure Spousal Support?
Spousal support, also known as alimony, is a financial payment that is made from one spouse to the other in the event of a divorce. This payment can be temporary or permanent, depending on the circumstances of the case. To qualify for spousal support, you must meet certain criteria, such as being married for a certain number of years or having a lower income than your spouse.
Factors that the court will consider when determining whether to award spousal support include the following:
The length of the marriage
The income and assets of both parties
The needs of each party
The standard of living during the marriage
The contributions of each party to the marriage, including things like homemaking and childcare
The age and health of both parties
If you are seeking spousal support, it is important to have an experienced family law attorney on your side who can help you make a strong case. The lawyer will be able to gather the necessary evidence and make persuasive arguments to the court on your behalf.
Tips for Anyone Going Through a California Divorce
No one ever expects to go through a divorce, but millions of couples face one each year. If you are experiencing a divorce, no matter what your reasoning, here are a few tips to help you through the process:
Stay calm, and don't make any rash decisions. This is a difficult time for you, but it's important to make decisions that are in your best interest.
Get organized. Make a list of all of your assets and debts and keep track of all communication with your spouse and their attorney.
Assess what is important to you. What are your top priorities – child custody, child support, property division, or spousal support? Narrowing in on what is most important to you will help you focus your energy and resources.
Understand your needs. It is important to understand what type of support you will need both emotionally and financially during and after the divorce. This will direct you to the right resources and help you secure exactly what you need to thrive in life post-divorce.
Be careful discussing divorce around children, if you have them. It is never advisable to talk negatively about your spouse around your children. This can have a lasting impact on their development and relationship with both parents. It also is something that can be brought up in court and influence a custody decision.
Get professional help. If you feel overwhelmed or lost during your divorce, it is good to seek out professional help. This could be in the form of a therapist, divorce coach, or an attorney specializing in family law.
Following these divorce guidelines will prove helpful as you navigate your divorce. Remember to stay focused, organized, and above all else, be proactive in your approach. Having an experienced Mission Viejo divorce attorney on your side can make all the difference.
Contact a DeArmey Family Law Attorney Today
If you are considering a divorce and would like more information, contact the experienced family law attorneys at DeArmey Law today. We can educate you on your rights and help you make the best decisions for your future under the current laws. We are always ready to help people through this difficult time and guide them on their way to a new beginning.
Mission Viejo Practice Areas