Lake Forest Divorce Attorney
With over 100 years of combined legal experience, our team is highly qualified to provide legal services for your most difficult family circumstances.
Lake Forest Divorce Lawyer
Going through a divorce or separation in Lake Forest, CA can be one of the most difficult challenges of your adult life. Both parties may find themselves under enormous stress when faced with the prospect of dividing up marital property, calculating alimony, and figuring out child custody and child support for any minor children involved. Often these tremendous burdens are placed upon people when they are still feeling heightened emotions (and often suffering from emotional exhaustion) related to the end of their marriage.
Even when a divorce can be done fairly smoothly and amicably by using tools like divorce mediation to expedite the process, officially ending the legal contract of marriage remains a lengthy and daunting task. While it is perfectly legal to divorce or separate without the help of an attorney, many people without legal training will understandably find themselves overwhelmed by the process. Between paperwork and court appearances, merely trying to move on from your failed marriage can make you feel like you've taken on a new full-time job.
A qualified family law attorney can be a key partner in helping to lift some of that burden from your shoulders, allowing you to focus on healing and getting your new life in order. Additionally, you can find peace of mind in knowing that a trained professional is dealing with complex matters like spousal support, the division of assets, and any family law situations that arise as a consequence of your divorce.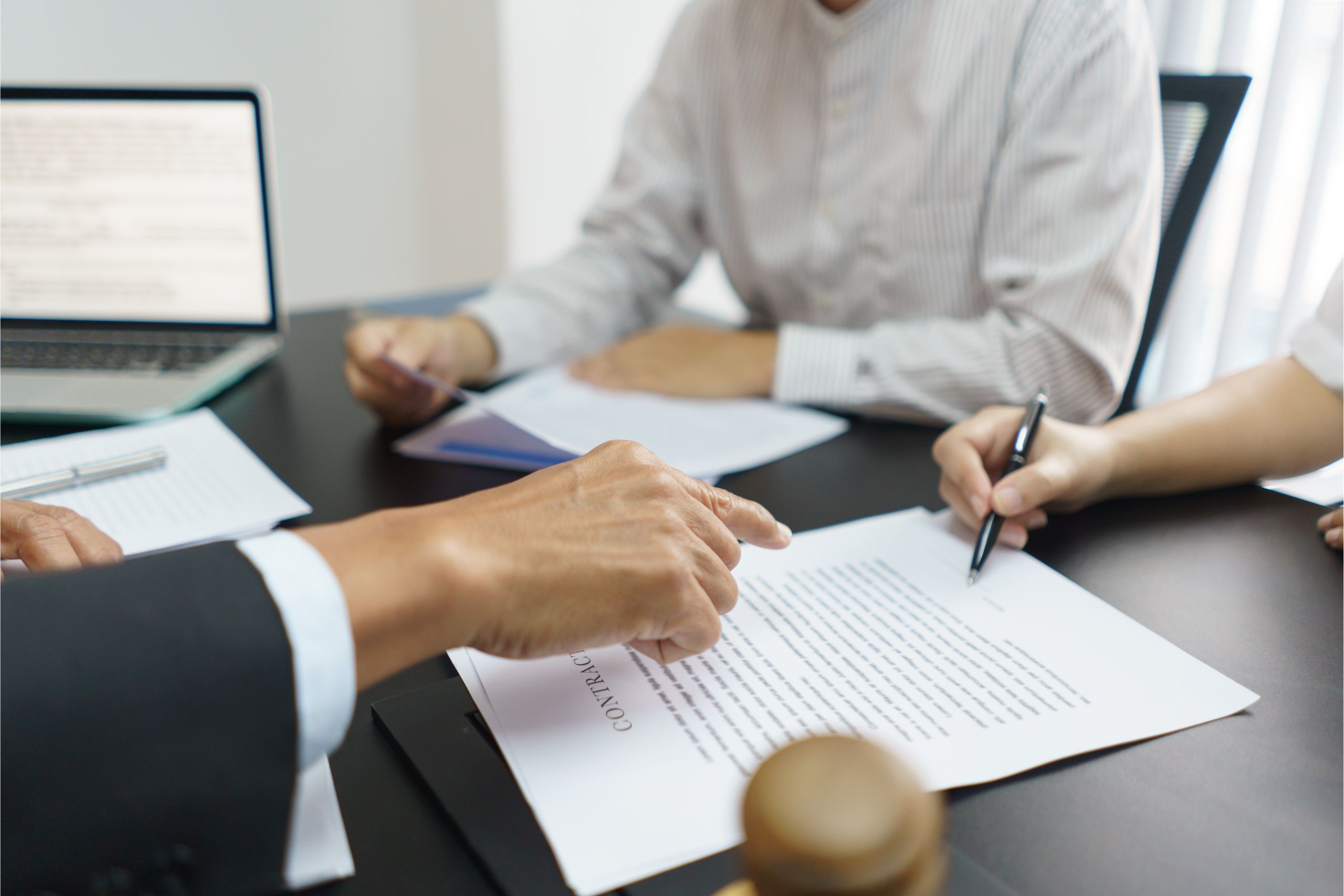 Why Should I Hire a Lake Forest Divorce Attorney?
Entering into divorce proceedings with the help of reputable and high-powered legal counsel will be a great asset to you in pursuing your Lake Forest divorce. Here are just a few of the benefits that come with retaining the services of a high-powered family law firm like DeArmey Law:
Familiarity with the local Lake Forest courts – DeArmey Law prides ourselves on our great working relationships with local judges and court officials. Having a lawyer who is familiar with the local courts can sometimes be an overlooked key in helping move stubborn divorces along to a conclusion.
Fight for the best terms – A trained family law attorney doesn't merely help you file your divorce paperwork. A good lawyer will be equipped to use every legal instrument at your disposal to argue for the best possible terms when it comes to the division of assets and spousal support/alimony.
Fight for your family – It's a difficult truth to swallow, but the hardest-hit victims of divorce are often the children involved. The compassionate professionals at DeArmey Law understand that your children are going through all of this with you. We are prepared to put them first when fighting for custody arrangements and child support orders. Working with a skilled attorney will help ensure your children are provided for going forward and that fair custody orders are put in place that will allow you to maintain those all-important familial bonds.
Divorce mediation services – Sometimes, people have a glamorous perception of lawyers as professional orators who spend their workdays making dramatic arguments before judges and juries. The more mundane reality is that, oftentimes, the best thing your lawyer can do for you is keep you out of the courtroom altogether, or at least as much as possible. This holds true with divorce lawyers. Through a process called divorce mediation, a neutral attorney can act as a third party while you work through agreements on things like dividing up your property and figuring out arrangements for the children. By getting these agreements hashed out behind closed doors before you ever see a judge, your divorce can often be completed at an expedited pace. This not only helps you more quickly move on from this difficult phase of your life, but it can also save in legal fees by reducing lengthy courtroom proceedings.
Navigate the system – even the most routine legal matters can be overwhelming for folks with no legal training, and divorces and separations can be far from routine when there are complex assets or familiar situations involved. A family law specialist on your side will ensure you are meeting all of your legal obligations in terms of showing up at hearings, submitting documentation, and filing and serving necessary paperwork.
Understanding Spousal Support ("Alimony") in California
There are two forms of spousal support that can be awarded in California divorce cases.
Pendente lite (temporary) support may be granted at the start of the divorce process. This type of alimony is paid to one partner from the other to cover necessary expenses and maintain a standard of living while the divorce is pending.
Permanent support—which is what we typically think of when we hear the term alimony—will be awarded when the divorce is finalized, similar to child support payments.
Spousal support will be calculated differently for each type. Temporary support is based on an equation that considers the needs of the spouse with the lesser income and the means of the spouse with the greater income. This calculation is sometimes rushed in an effort to ensure no one is left without the means to support themselves. If you feel you are paying an exorbitant amount of support or not receiving enough, your lawyer may be able to argue for a recalculation and adjustment.
Permanent support amounts are calculated using a more sophisticated algorithm that takes into account additional factors, including:
How long the couple was married
The current income of each spouse
The future earning potential of each spouse
The current expenses of each spouse
Whether children are living in either home
Lifestyle factors
Any relevant disabilities or special medical needs
Income, not surprisingly, will be the single most important factor in most calculations. If your ex is self-employed, has a variable income from month to month, or makes their income through non-traditional means, you may want to work with your lawyer to ensure they are not providing the courts with unrealistically low estimates of their income in an attempt to lower the amount of the alimony judgment.
Note that spousal support judgments in California are entirely gender neutral by law. A family law judge cannot give any consideration to which partner is the "husband" or "wife" when calculating and awarding alimony payments. If you ever feel your divorce proceedings are being affected by gender bias, consult with your lawyer about what sort of recourse may be available.
Understanding Child Support in California
California, like other states in the nation, prioritizes the material needs and safety of minor children involved in any divorce. Child support is ordered so that parents can meet their children's basic needs and continue to maintain their standard of living after the divorce.
Child support calculations in California will take several different factors into account, such as:
Each parent's income and earning potential
The parenting time (custody) awarded for each child
Any special expenses (childcare, medical needs) associated with raising the child
The current expenses and living situation of each parent
The child's standard of living prior to the divorce
Child support payments will last until the child turns 18 or until a court orders them to stop (this is not typical). By working with a family law attorney, you may be able to request that a child support order be recalculated and modified or thrown out entirely. Valid grounds for recalculating child support may include the following:
Significant changes in one party's income
Lifestyle changes (moving, loss of employment, etc.)
Child becomes emancipated/moves out of the home
The death or medical incapacitation of one party
Changes in special expenses (e.g., medical needs) for the minor child being supported
The minor child moves out/is emancipated
When calculating child support, all forms of income should be counted, including not just salaries and wages but also bonuses, rental income, investment dividends, account interest, pensions, royalties, trusts, government benefits (disability, unemployment, etc.), and even alimony from any prior marriages. It is crucial that you and your ex disclose all forms of income to the court, so that child support payments are calculated appropriately.
DeArmey Law – Your Trusted Lake Forest, CA Family Law Attorneys
You have many options when looking for a divorce lawyer in Orange County. With over a century of combined legal experience, the high-powered legal team at DeArmey Law belongs at the top of your list. Divorce is difficult under the best of circumstances. We understand that. We also understand that competent legal counsel can help move even the most tense and volatile of divorce cases toward a positive conclusion more smoothly and quickly, and we're ready to put our years of experience to work for you, your family, and your future.
From our main offices in Tustin, CA, we are ready to serve the people of Lake Forest and Orange County with a comprehensive list of family law services. Contact us today for a compassionate, no-obligation review of your divorce or separation case. Together, we'll move you through this tumultuous period in your life and help you get all of the pieces in place for building a secure and happy future.
Family Law Practice Areas
Why Do Women Seek Divorce in OC, CA?