Orange County Paternity Lawyer
With over 100 years of combined legal experience, our team is highly qualified to provide legal services for your most difficult family circumstances.
Orange Country Paternity Attorney
Many young couples are discovering that the traditional ideas regarding what makes a family may not be the most suitable for their circumstances. It has become increasingly popular for couples to cohabitate and raise children together without getting married, and they deserve the same parental rights and responsibilities as a married couple. Suppose a couple chooses to remain unmarried and raise a child. In that case, state laws in California provide the same legal protections that are enjoyed by parents who married and later divorced. However, there are specific steps that unmarried parents must take to
establish paternity
so they can have the same rights and responsibilities as married couples and resolve issues of child custody, visitation, and support if the relationship dissolves.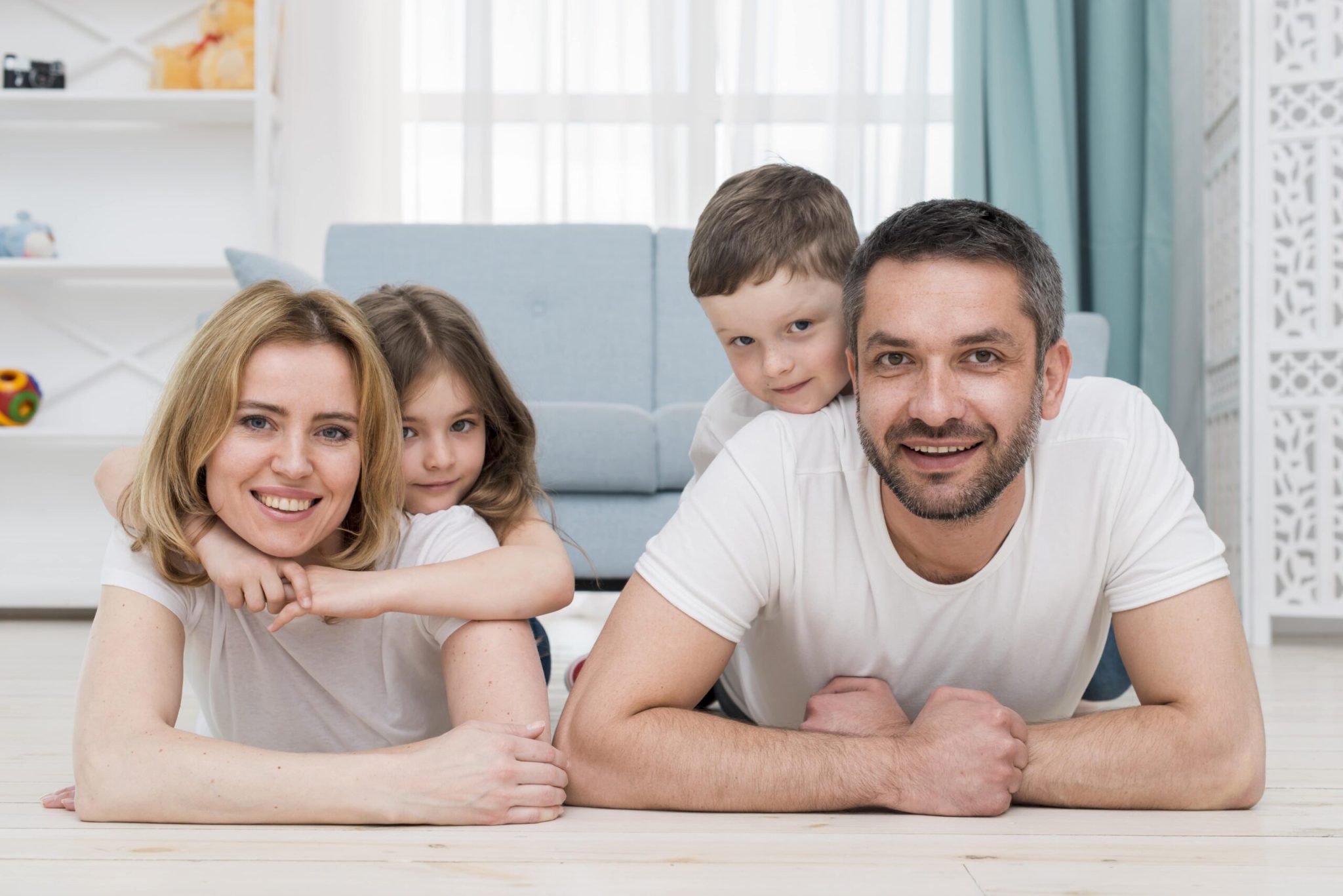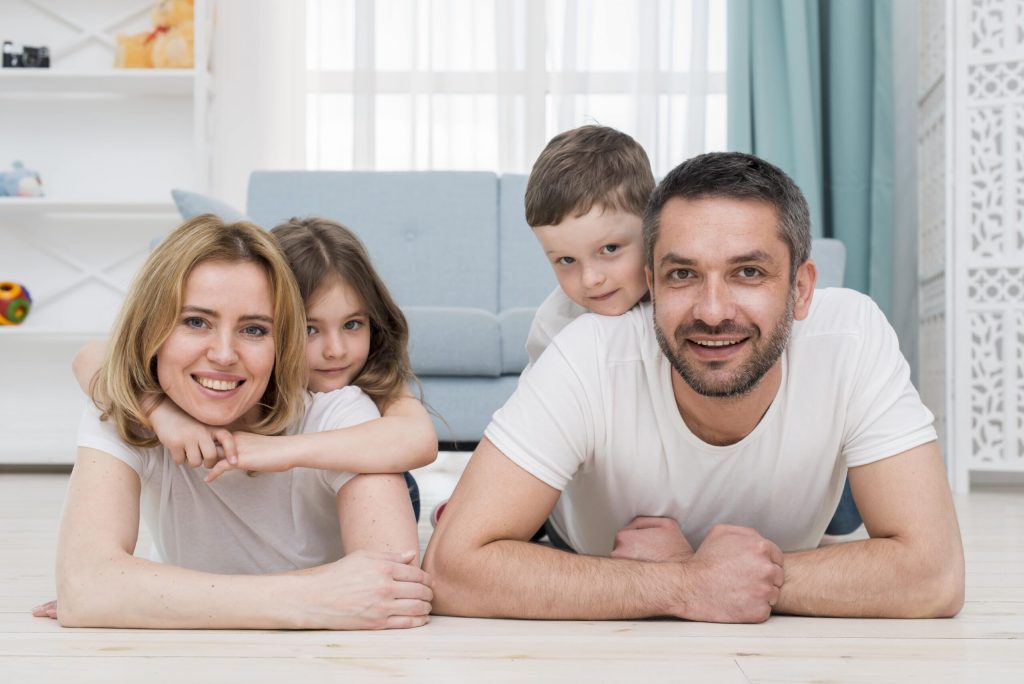 Learn more about establishing paternity by reviewing the information below, then contact
DeArmey Law
to help you navigate this process. Our team of Orange County paternity attorneys can ensure you and your partner have equal rights and responsibilities for spending time with your child and providing for them as they grow. When you hire us for legal representation, we can protect your rights, aggressively advocate on your behalf, and help you achieve your goals.
What Does It Mean to Establish Paternity?
Depending on the legal relationship between two parents, the law makes certain assumptions about parentage that determine each parent's rights and responsibilities in caring for the child. Parentage is presumed when the couple is married, and the law automatically gives both parents equal rights and responsibilities for parenting time and child support. When the couple is unmarried, parentage is not presumed. The parents must establish paternity to ensure the child can take advantage of the same benefits that they would have if their parents were married. Establishing paternity involves signing a declaration of parentage or obtaining a court order, so a judge can decide the parents' legal status.
The law presumes a father is the parent of the child in any of the following circumstances:
He was married to the child's mother during the child's conception or birth.
He attempted to marry the mother, regardless of the validity of this marriage, and the child's conception or birth occurred during this time.
After the child was born, he married the mother and agreed for his name to appear on the birth certificate or agreed to offer support to the child.
He welcomed the child into his family and demonstrated a clear commitment to the child and raising them as if they were his own.
These presumptions of parentage that apply to married couples also apply to same-sex couples and couples in a registered domestic partnership. If two women agree to raise a child, the partner who did not give birth must ask the court to establish legal parentage and prove that she intended to be the child's parent. This also applies when two unmarried men want to adopt and co-parent a child.
After paternity has been established, both parents have equal rights and responsibilities. They can request parenting time in the form of custody and visitation orders, and they are responsible for financially supporting the child. This includes paying child support and covering half of the child's uninsured health care costs and childcare costs required for the other parent to work or attend school.
Why Should I Establish Paternity?
Establishing paternity is necessary to ensure you have the right to custody and visitation so you can become an important and active part of your child's life. This also comes with many benefits for your child, including:
Legal documentation of parentage
Having both parents named on their birth certificate
Financial support
Health and life insurance coverage
Social Security and veteran's benefits
Access to family medical history and records
Inheritance of assets or property from your estate
Research has demonstrated that the presence of a father or father figure in a child's life has a significant impact on their well-being and development. When a father is supportive, affectionate, and responsive to cues, the child can establish secure attachments, an ability with long-lasting effects well into adulthood. Children with secure attachments are more sociable and popular with their peers than children without secure attachments, and they perform better academically. A child whose father is actively involved in their care from a young age gains higher self-confidence and can make stronger social connections.
Along with enhancing social development, the presence of a father in a child's life influences their cognitive development, particularly in terms of communication and language skills. Because fathers tend to engage in more physical, high-energy play with children than mothers, these interactions strengthen problem-solving and promote risk-taking behavior. As children grow, sons with active fathers display more self-control and fewer behavioral problems, and daughters experience reduced psychological issues and fewer teenage pregnancies. Establishing paternity has a variety of important, positive, long-term consequences for your child.
How Do I Establish Paternity?
There are two methods for establishing paternity in California:
Sign a voluntary declaration of parentage or paternity.

Unmarried parents may sign a declaration of parentage or paternity to state that they are the child's legal parents. They can sign this document at the hospital immediately following the child's birth or later. If they choose to sign it at the hospital, both their names will appear on the birth certificate, and the mother is not required to request a court order in the future to prove the father's identity. If the declaration is signed at a later date, the signing must be witnessed by a notary or completed at your local child support agency (LCSA), welfare office, family law facilitator's office at the local superior court, or registrar of births. Then the parents can request a new birth certificate be issued to include the father's name.

After both parents sign the declaration, they must file it with the Parentage Opportunity Program (POP) within the California Department of Child Support Services to be considered legally valid. When properly completed, this document grants both parents the same parental rights and responsibilities as a court order—equal rights to custody and equal responsibilities to support the child. A family law judge can then establish orders for child custody, visitation, and support. Violation of the terms of the support order can result in a maximum fine of $1,000 or five days spent in county jail for every violation.

It is important to understand that signing this declaration amounts to giving up certain legal rights you have regarding paternity establishment. When you sign the document, you give up the rights to:

Petition the court for a trial to determine paternity.
Request genetic testing.
Receive notice on any court hearings about paternity issues.
Present your case to the judge.
Retain an attorney to represent you.

 

After you establish parentage, it becomes either incredibly difficult or impossible to cancel or rescind this declaration. To do so, you must make this request within two years after filing the declaration and prove that you signed the declaration due to coercion, error, or fraud.

Request a court order.

You can ask your local child support agency to request a court order or go to court yourself to handle your case. To request help from your LCSA, you call them and ask to schedule an appointment to open a parentage and support case for free. You may begin this process while the mother is still pregnant, and if the father contests his paternity, you can order genetic testing to resolve the dispute. Because you are not a legal client of the LCSA lawyers, the information you disclose is not confidential and can be accessed by the other parent, employer, lawyer, or other agencies. Their decision on child support is final, regardless of whether either parent disagrees. However, you do have the right to seek advice from a private attorney or family law facilitator at any time to aid you in this process and ensure your interests are protected.

If you choose to request the court order yourself, you must complete, serve, file several court documents, and potentially undergo a court trial. You do not need to open a parentage case with the court if any of the following applies to your situation:

You and the other parent are married or registered domestic partners.
You and the other parent are not married but completed and filed a valid declaration of parentage.
Your LCSA already initiated a parentage and support case for you.
You and the other parent are engaged in a domestic violence restraining order case, you agree to your child's parentage, and the court making a judgment about this issue.
How Long Does a Father Have to Establish Paternity in California?
Unlike other states, California does not have a statute of limitations for establishing paternity, meaning you can do so at any time during the child's life. However, claims to dispute paternity must be filed within two years of the child's birth date.
Do I Need a Lawyer to Establish Paternity?
You do not need to retain the services of a lawyer to establish paternity, but this approach is recommended to ensure you achieve the best outcome in your case. An Orange County family law attorney can inform you of your rights, thoroughly explain California's paternity laws, and evaluate your unique situation to determine how to resolve paternity in a manner that benefits you and your family. A lawyer understands the requirements for establishing or contesting paternity and can guide you through each step of the process. A law firm specializing in paternity cases has the resources and expertise to efficiently manage your case and make sure your documentation meets state guidelines, is accurately completed, and is filed within the appropriate time.
Even if all parties are on good terms, paternity cases involve incredibly sensitive issues. They tend to be emotionally charged and can quickly lead to contention or even an ugly confrontation that can negatively impact the long-term dynamics of your family. Hiring an attorney to manage your case means you have an experienced legal expert on your side who will handle all the complex and often confusing legal issues related to paternity, including drafting and filing a voluntary declaration of parentage forms, scheduling blood or genetic testing, and negotiating child custody and support arrangements. Your Orange County paternity attorney will represent you in court if necessary, confirm that you understand your expectations, and offer advice on presenting yourself in the best light before a judge.
How Much Does a Father's Rights Lawyer Cost?
The cost for retaining the services of a family law attorney varies depending on several factors, including the experience of the individual lawyer, your location, the complexity of your case, and the amount of time it takes to resolve. Attorneys with extensive experience or specialization in certain areas of family law charge more than those with fewer years of experience and general legal knowledge. In California, experienced attorneys charge $300 to $500 per hour. Typically, they will expect a retainer as an upfront deposit before working on your case to ensure they will be appropriately compensated for their time and efforts. While it is difficult to calculate a precise estimate, you can expect a contested case to take longer to resolve than an uncontested case and cost more. Additionally, a court verdict tends to be significantly more expensive than settling outside of the courtroom.
Establish Paternity With DeArmey Law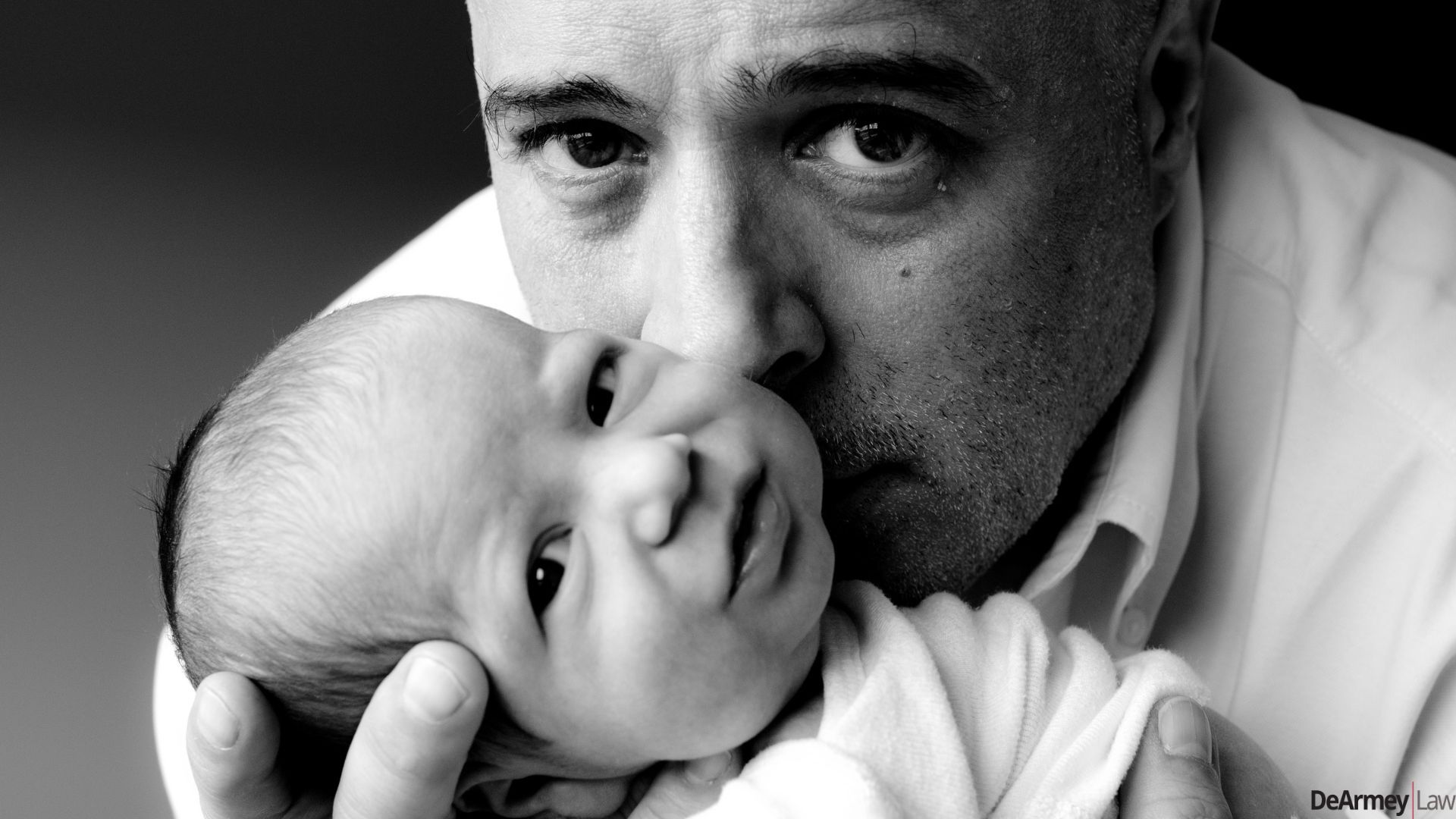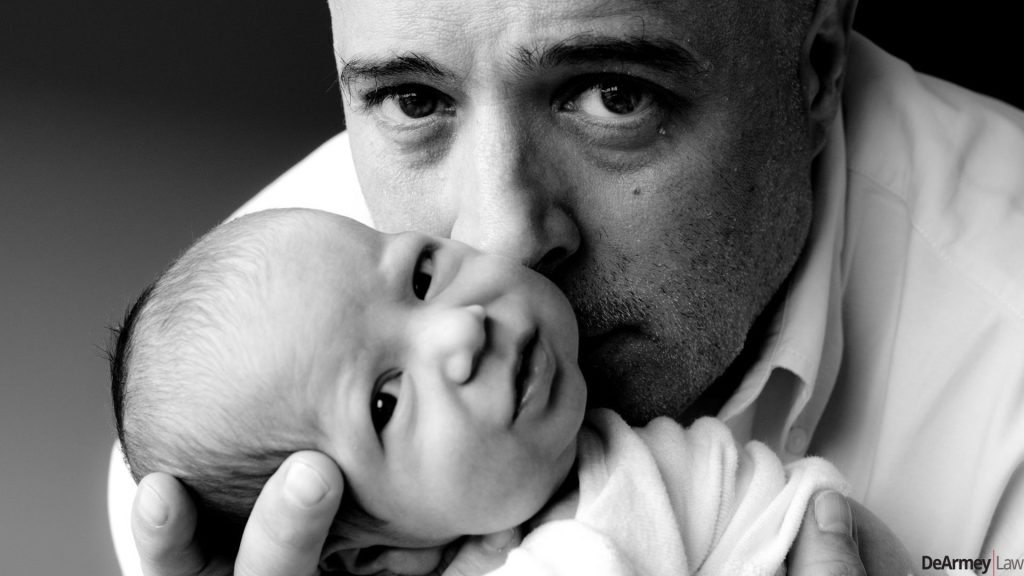 If you are interested in establishing paternity, it is necessary to contact an experienced Orange County paternity attorney right away. Whether you are a father seeking custody or visitation rights or a mother attempting to secure child support payments, an attorney can relieve you of the significant anxiety and emotional strain of navigating this process yourself and guide you toward the optimal outcome for your family. At DeArmey Law, our compassionate, responsive, and dedicated attorneys have four decades of experience representing clients throughout Orange County. We provide comprehensive, individualized attention and can approach your unique case with the highest degree of care to reach the best resolution for all parties.
Schedule a consultation with DeArmey Law today to learn more about how we can help you resolve your paternity matter. Our impressive record of proven results has given us a reputation for being one of the best family law firms in Orange County, and we are prepared to put our sophisticated skillset to work for you.
Orange County Practice Areas